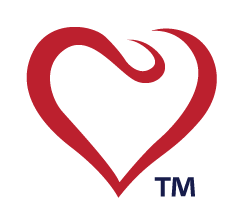 Loading ...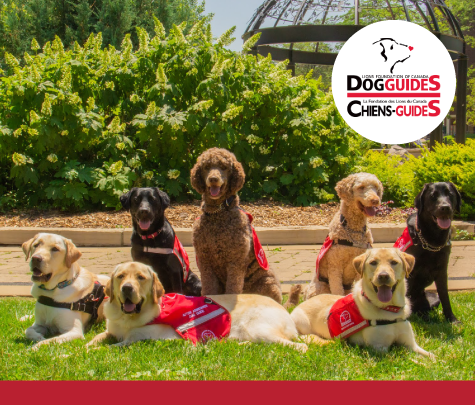 LIONS FOUNDATION OF CANADA DOG GUIDES
Lions Foundation of Canada Dog Guides and its founding program, Canine Vision Canada, was established in 1983. It's the largest school of its kind in Canada with its training school in Oakville and breeding facility in Breslau.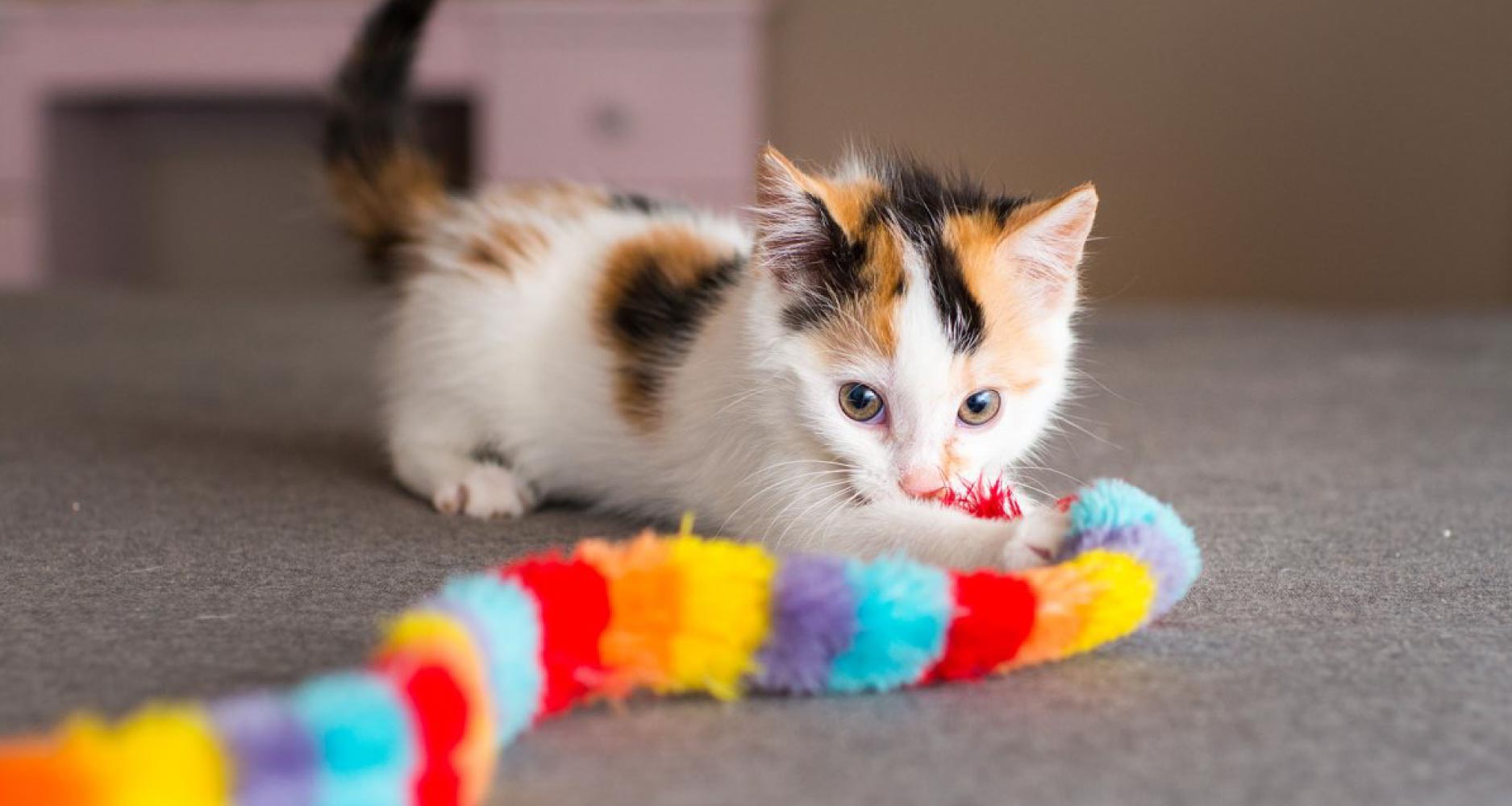 Some house cats have learnt to enjoy a life of leisure, while others prefer to mix things up with frequent hunting trips, or at least exploring missions.
When they're not relaxing, 'the hunters' probably enjoy to stalk and pounce on prey… or things that look like prey. Their natural agility comes in handy here and with the right toys you could awaken some healthy, playful instincts.
The thing is, just because some house cats are happier indoors, doesn't mean they should exercise less. Without roaming, chasing things and applying their useful cat skills they're missing out on the benefits of an active lifestyle, as well as valuable mental stimulation. Cats may seem lazy sometimes, but they're still smart, so if no stimulation is provided they could misbehave. The solution? TOYS!
HERE ARE FIVE EXAMPLES
A good place to start when considering different options is looking at the cat toy categories that have a reputation for being effective.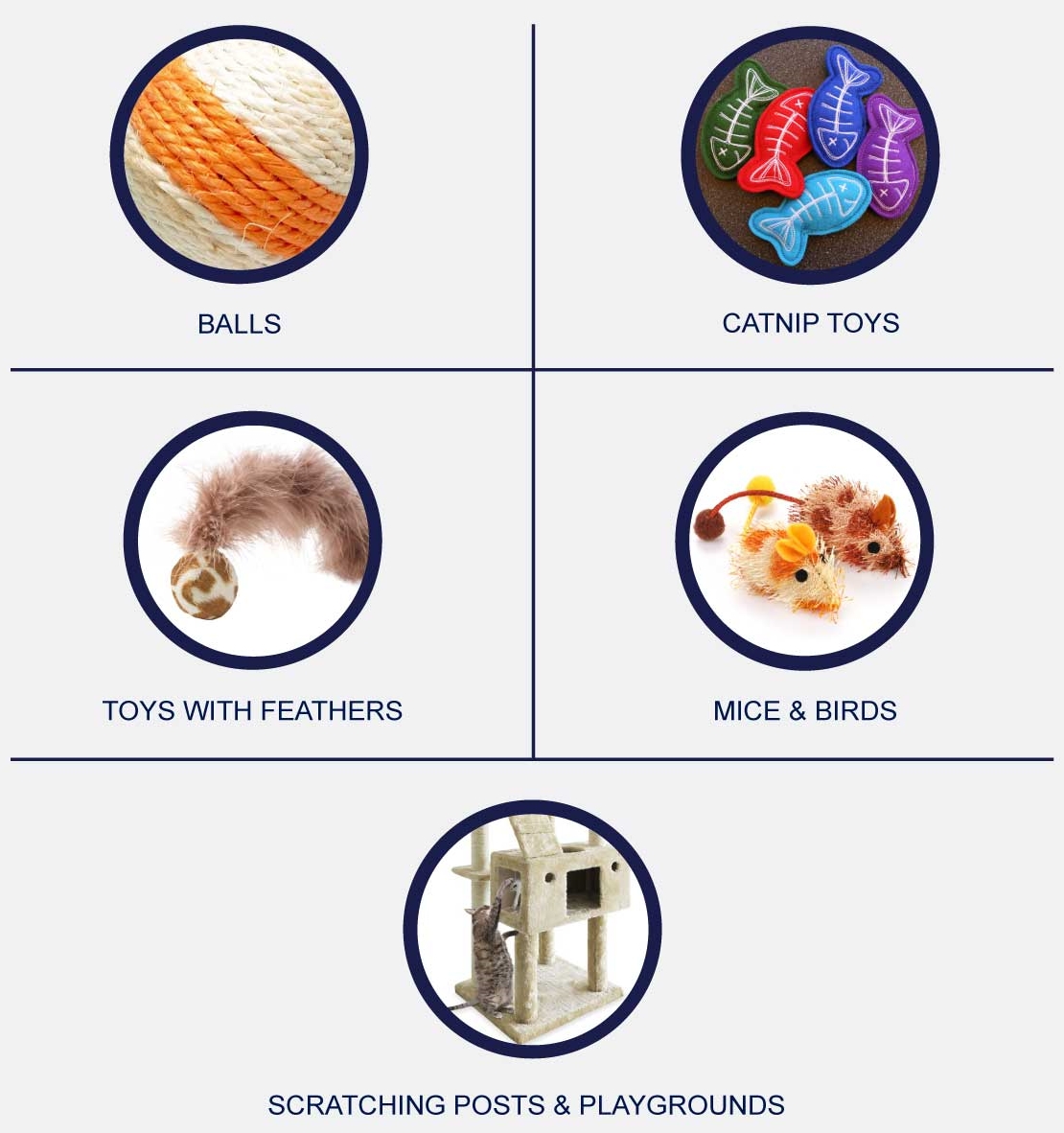 CATEGORY 1: BALL TOYS
It might seem too obvious, but still: balls are great for chasing and pawing, preferably not in carpeted areas, unless you don't mind. Balls that make noises are ideal options for blind cats.
Balls with slots and a bell: they're entertaining, nice to paw and attention-grabbing
Bouncy dice toys: they're not really round, but they can roll and bounce unpredictably and some allow you to place a treat inside
Rattling balls: some of these can look weird, but they're wonderful and entertaining
Fluffy balls: add a spritz of catnip and you're good to go
Crinkly, colourful balls: these are usually made of strong, thin polyester film
CATEGORY 2: CATNIP TOYS
Catnip is a herb that most cats go crazy for. Simply a whiff could lead to a burst of energy and urge to 'attack' and rub against the object in question. Many owners use a catnip spray, but toys with a refillable part, are even better. They're bound to benefit from the extended, stimulating periods of play and exercise.
CATNIP 'CIGAR' or BAT TOYS
These are filled with leaves, ready to get a reaction from sensitive kitties.
SPINNING CATNIP TOYS
These interactive toys usually feature rings, balls and a space for catnip.
CATNIP MICE
These catnip toys don't hold back in terms of flavour and looks.
CATNIP SACKS
Usually basic, but inexpensive and effective.
CATNIP BALLS
Similar to the mice, only round, these 2-in-1 toys are awesome.
CATEGORY 3: TOYS WITH FEATHERS
Although supervision is advised for safety reasons, toys featuring feathers are very popular (despite being slightly controversial). Toys with feathers can differ in shape, size, texture, colour, sound and behaviour.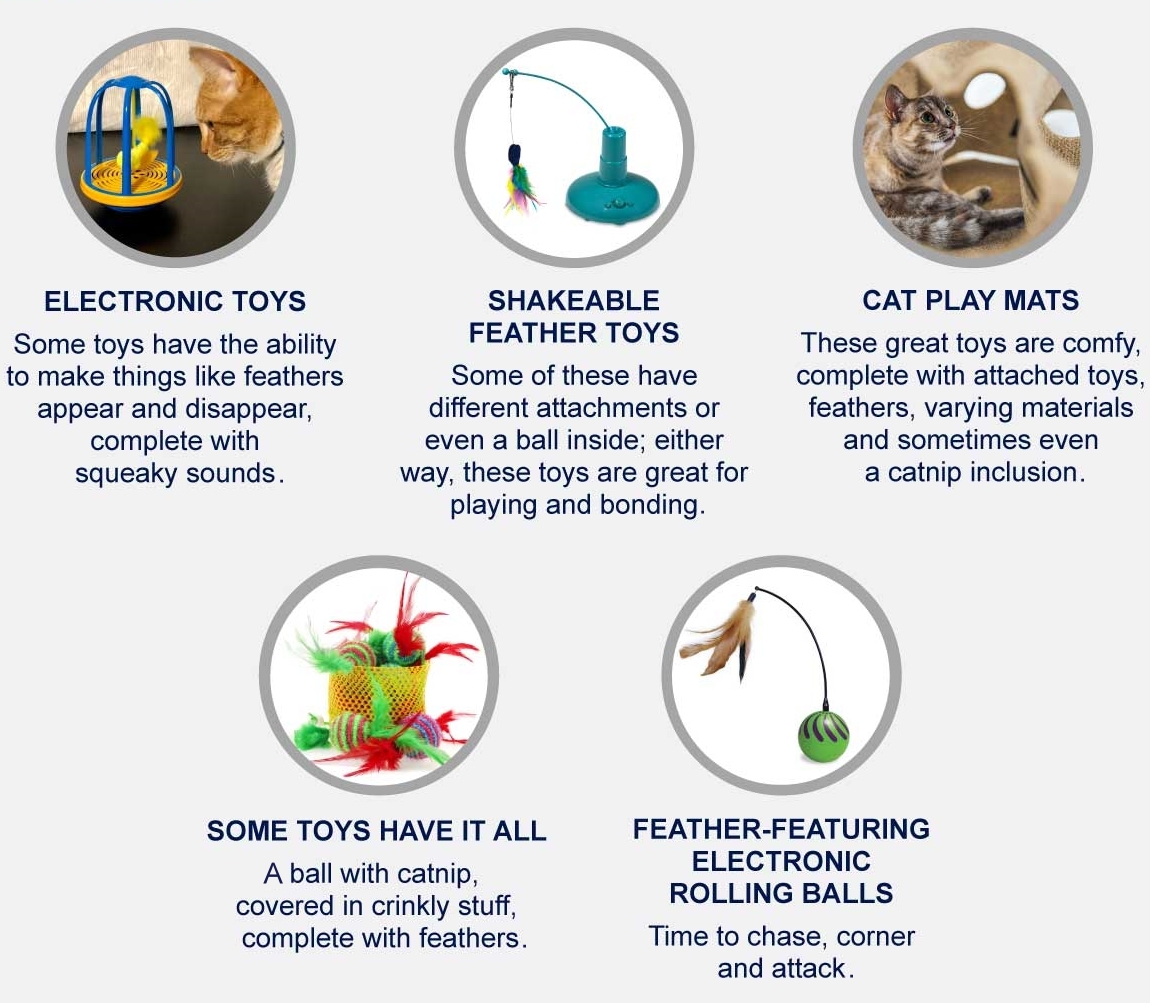 CATEGORY 4: MICE AND OTHER PREY ANIMALS
It's no surprise that small prey cat toys are popular and that they can be found almost everywhere. They're usually well priced too. If your cat doesn't like the basic versions, there are more interesting options out there.
Colourful furry mice
Not your standard grey, white and black cat toys.


Squeaky mice
Some of these mice can look quite realistic and may even include catnip, plus an electronic device that mimics a mouse's squeak.


Some cat prey toys (with or without catnip)
Abstract in terms of looks, but can move in strange, enticing ways.


Themed Mice
Star Wars mice already exist and others may follow.


Slingshot Cat Toys
Look out for these cool chase toys; great for bonding playtimes (those with sound are even better).
CATEGORY 5: SCRATCHING POSTS & PLAYGROUNDS
Almost all owners will know that a cat needs a scratching post as well as a few personal spots and sanctuaries. Add a few toys and you're good to go. Look for a variety, or a combination, of playgrounds and scratching posts.
A scratching post with toys
Mats with toys attached
An activity centre with a perch
A scratching post with a perch
Mats with interesting textures
A scratching post with spots to hide treats
An activity centre that offers rewards for completing challenges and brainteasers
A scratching post with a place to hide
Sleep, hide, play, dig, claw, seek or hunt. Some mats and scratching posts can even be refigured to offer a variety of shapes and sizes. A non-slip bottom may also be useful, depending on where the object will be placed.
Before you invest in kitty accessories, think about where you'll place these items, how accessible they are and how easy you can move and clean them. Also think about what your cat likes to do most.
If you value organic products or the use of recycled, sustainable and/or eco-friendly materials you might have to look a little harder, but there should be options for your consideration.